WARNING: These products contain nicotine. Nicotine is an addictive chemical.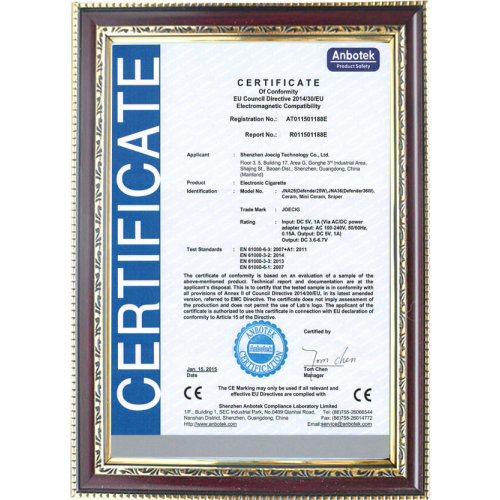 Period:
May 15,2015 - May 15,2019
Certification bodies:
Shenzhen Abotel Compliance Laboratory Limited
Joecig X-TC CE certificate
The CE marking (an acronym for the French "Conformite Europeenne") certifies that a product has met EU health, safety, and environmental requirements, which ensure consumer safety.


Manufacturers use CE markings to indicate that a product complies with European Union (EU) regulations and directives regarding health, safety and environmental protections. Products with this marking have free access to the EEA market. As such, the CE marking can be thought of as a trade passport — EU member states cannot restrict the market placement of products affixed with the CE marking without adequate evidence of non-compliance.
There are 24 directives that dictate which products require CE marking. These directives carry different requirements, and several directives may apply to a single product. These products include, but are not limited to:
Household refrigerators and freezers.
Personal protective equipment.
Radio and telecommunications terminal equipment.
Please send your message to us