WARNING: These products contain nicotine. Nicotine is an addictive chemical.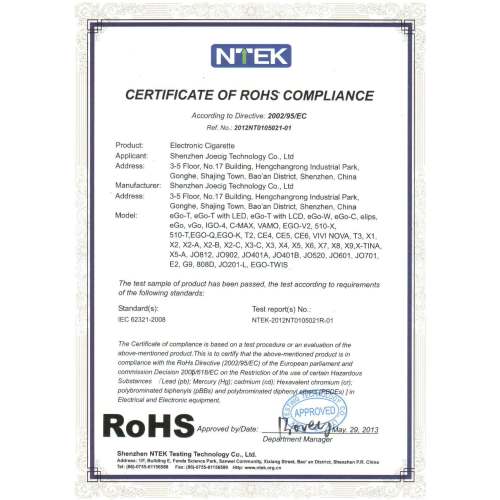 Period:
Apr 26,2016 - Apr 26,2018
Certification bodies:
ShenZhen NTEK Testing Technology Co., Ltd
Joecig Rohs


What is RoHS?
RoHS stands for Restriction of Hazardous Substances. RoHS, also known as Directive 2002/95/EC, originated in the European Union and restricts the use of specific hazardous materials found in electrical and electronic products (known as EEE). All applicable products in the EU market after July 1, 2006 must pass RoHS compliance.
What are the restricted materials mandated under RoHS?
The substances banned under RoHS are lead (Pb), mercury (Hg), cadmium (Cd), hexavalent chromium (CrVI), polybrominated biphenyls (PBB), polybrominated diphenyl ethers (PBDE), and four different phthalates (DEHP, BBP, BBP, DIBP).
Why is RoHS compliance important?
The restricted materials are hazardous to the environment and pollute landfills, and are dangerous in terms of occupational exposure during manufacturing and recycling.
How are products tested for RoHS compliance?
Portable RoHS analyzers, also known as X-ray fluorescence or XRF metal analyzers, are used for screening and verification of the restricted metals. With the advent of RoHS 3 and the four added phthalates, different testing is needed to ascertain levels of these compounds, which are extracted with a solvent. For more information, see RoHS Testing.
Which companies are affected by the RoHS Directive?
Any business that sells or distributes applicable EEE products, sub-assemblies, components, or cables directly to EU countries, or sells to resellers, distributors or integrators that in turn sell products to EU countries, is impacted if they utilize any of the restricted materials. Since RoHS-like regulations have spread to a number of other countries, this just doen't apply to EU countries anymore.
Please send your message to us